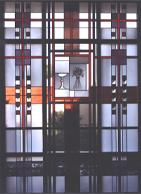 Communion Window
Click image to view enlargement
Arthur Stern Studios collaborated with architect Robert Davidson and several committees from the congregation. A theme of cross abstractions was established for the doors and windows. The narthex incorporated ten leaded-glass doors with transoms. The sanctuary has two major windows with religious symbolism. One is a communion window, the other a baptism window. The sanctuary also has two large windows over the altar and twelve doors.

The communion window features a medallion depicting wheat and a chalice. The wheat is done in traditional glass painting, in sepia tones. The chalice is rendered in bronze beveled glass.

The baptismal window features a medallion depicting a descending dove and a river, symbolic of baptism.