This project, installed in 2000, was funded by the Alaska State Council on the Arts. Alaska has a history of commissioning artists from all over the country and I was honored to have my design selected after a national competition.
Exterior View 1
Click image to view enlargement

Exterior View 2
Click image to view enlargement

The facility is for juvenile detention and includes a school for children in residence. The windows are located in the main entrance where parents come to visit. There are two major panels, up in the eaves and twelve smaller panels in the entrance foyer.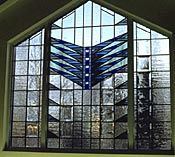 Interior View
Click image to view enlargement


The windows have a clear-textured hand blown glass background allowing a vista through, I wanted the installation to have an open feeling. The imagery is based on abstractions that are inspired by Indian art and represent things like wings or bird shapes or possibly totem pole shapes. These represent freedom. I wanted the detailing to add a human scaled detailing to the building and not be intimidating. The use of large beveled glass prisms in the panels interact with the changing light and create rainbows that are projected into the environment adding a sense of warmth. The imagery is childlike and at the same time sophisticated and is non institutional in its nature. The design is inspired by the shapes of the architecture as well as responding to the culture of Alaska.