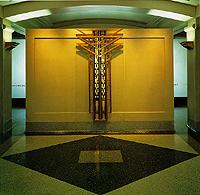 8' bas-relief wood & glass sculpture
Click image to view enlargement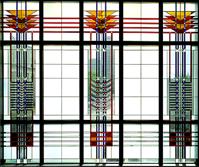 "Sentinels" (leaded-glass:17' x 12'6")
Click image to view enlargement
Arthur Stern Studios won a National GSA Percent for the Arts competition to create three related installations for this building, two large leaded glass windows, and a lobby sculpture. The Federal Government had an exact budget available for the artwork, which was to include design, fabrication, and installation.

The windows measure 17' x 13' and 17' x 12'6". They are built entirely of handblown glass with large prisms, hand beveled from 1/2" thick plate glass. The windows are traditional leaded glass with steel reinforcing bars and fit into an aluminum frame. There is a sealed unit to the exterior with the art glass installed inside. The windows are located on the third and second floor respectively and are installed at the ends of the main corridor on each floor. The windows are visible from a variety of distances and viewing positions. I wanted the designs to be graphic from a distance as well as having a more intimate level of design. I also wanted to create windows within the window, or irregular openings that would allow a vista through to the city beyond, while most of the window would be opaque. The three column shapes in each window appear similar from a distance, but have their own identity when viewed up close. At eye level I concentrated complex detailed areas that are unique to each column.
Baton Rouge has a historic Art Deco courthouse adjacent to the new courthouse. The geometric designs reflect the spirit of the historic courthouse as well as relating to the columns and architectural details of the building. I titled the windows "Sentinels" or guardians of the court.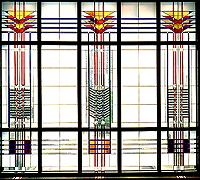 "Tall Sentinels" (leaded-glass:17' x 13')
Click image to view enlargement