A 1950's A-Frame Church, in a wooded setting, was restored along with the sensitive addition of a Narthex, a new entrance, and the widening of the Sanctuary to include side aisles. The original simple geometric leaded glass, narrow windows running the entire length of the building, were restored and moved to the new outside wall.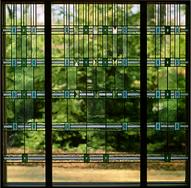 Narthex window
Click image to view enlargement
The Congregation finally was able to add the long awaited new organ. The original white painted wooden cross, that had been installed on the wall behind the Chancel Area, was moved to the back wall of the Sanctuary. The new organ became the focal point of the Congregation. Unfortunately, the organ had such a presence, they felt they were now praying to the organ, and realized adding a cross to the organ could resolve this issue.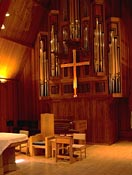 Cross - Overall
Click image to view enlargement


The design for the new seven foot tall cross was inspired by the materials of the organ pipes. The gold and silver metallic pipes became the palette. A new wooden cross, covered in glass mosaic was created and added to the front of the organ case. Hand blown clear glass, with striations for texture, was mirrored for the silver perimeter of the face and side edges of the cross, and a field of dichroic glass mosaic was used for the gold. The dichroic coating is on black glass, and is applied in a vacuum chamber. Four different textures of dichroic glass were used, to add variation to the field of tiny squares, used in the glass mosaic. Dichroic glass changes color depending upon the angle it is viewed from.

The materials used vary from a copper gold when viewed from straight on, then transitions to a more orange-yellow gold from an angle, and then transitions again to a greenish gold when viewed from the sides. The fact that the mosaic squares are not in the same exact plane results in a cross that has an animated sparkling effect, changing as one moves around the Sanctuary. The tiny gold squares spark at different viewing positions, as they reflect light from the side aisle windows or the interior lighting of the Sanctuary. The concept for the silver mirrored glass around the perimeter was to bring the Church into the cross.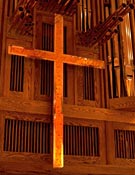 Cross - Detail
Click image to view enlargement


It reflects details from the building, the edges reflecting the oak of the organ case and the front face reflecting the lighter toned fir used in the wooden ceiling.

The end result is a cross that works hand in hand with the organ, and its materials, becoming integral ornament. It also brings the rest of the Sanctuary into play. While a gilded, silver and gold reflective cross might seem too imposing, the effect is not overwhelming but is one of understated elegance. The cross has now become the focal point, as it appears to float in front of the organ.